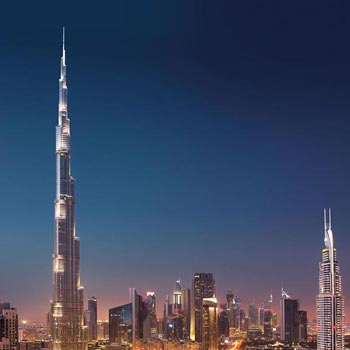 No building in modern history has aroused so much curiosity and intrigue as has Burj Khalifa. You're At the Top; Burj Khalifa visit will answer all your questions. From your vantage point on level 124 of the world's tallest building, you will experience first-hand this modern architectural and engineering marvel and know at last what it is like to see theworldfromsuchaloftyheight.
Your At the Top, Burj Khalifa visit begins in the reception area on the lower ground level of the Dubai mall. Here and throughout your journey, you will be entertained and informed by a multi-media presentation that chronicles Dubai's exotic history and the fascinatingstoryofBurjKhalifa.
Leave the reception area aboard the 65-metre-long traveler on a trip that transports you through time, from the earliest days of Dubai to the present. Pause briefly at a unique viewing point for your first close-up view of the soaring Burj Khalifa, seen through a skylight framing its awe-inspiring height. Overnight at your Dubai Accommodation.
Meals : Breakfast at hotel
Lunch and Dinner at Indian restaurant